Late Spring, 2001: Last year, Bad Livers released what could be their best album to date. "Blood and Mood" is so far along that we must consider changing the name of this web page, because this is nowhere near bluegrass. The pirAnts are sure that Sugar Hill was pleased to release this one!

This makes perfect sense to those who always understood that bluegrass was only the vehicle, not the trip. Imagine if you can: funky techno beats with monster bass and pedal steel. There's banjo, there's electric guitars, there's punk riffing, and of course, there are great songs. The pirAnts have turned more crusties onto Bad Livers with "Looky Here" and "New York City" than we ever did with "Ghost Train" and "Shit Creek".

These days, Danny Barnes is hanging in the NW and even touring with the King of the Duct-Taped Fiddle Ralph White. He also has two new bands - The Old Codgers and Thee Heathen. You can guess which features Mr. Barnes on banjo and which with electric guitar. The pirAnts hope he continues his basement recording, 'cause we're still freaking on Minor Dings.

On a sad note, some evil crusties broke into HoleWorld and made off with our Bad Livers music collection, not to mention many other collections. Blood and Mood was spared (it was in the cruising vehicle) and Delusions of Banjer was recovered!


Fall 1999: Danny Barnes has a new solo release called "Danny Barnes and his Oft Mended Raiment", upon which he expores the harmonic collisions of the traditional and future. Equally appealing for both fans of Moby and George Jones, it could be a clue regarding Bad Livers' upcoming project "Blood and Mood". NOT to be confused with genre hopping. Recently, Bad Livers played a thrilling show at Bottom of the Hill, also referred to as "Gig 2001". Playing in their element, they are as convincing a live act as ever.


Spring 1999 Update: Bad Livers passed through HoleWorld recently in support of "Industry and Thrift", their remarkable second release on the Sugar Hill label (produced by Lloyd Maines.) They are clearly a duo now, which means there's even more playin' to go around. Yes, Danny and Mark continue to create the traditional music of the future, colliding their acoustic approach with digital samples and distorted guitar. Check out their web sites for solo and side projects - we can tell you that Danny Barnes' "Minor Dings" is golden!


Late 1998 Update: Bad Livers have a new album out. They've been out there on tour too but pirants are scarce in those areas and we don't even know the configuration at this point. On the new "Industry and Thrift" the duo of Mark and Danny is joined not by Fast Bob or Ralph White but more of a support cast. Big band on tour or just the Bad Livers themselves? Either way, the new disc literally rocks. With drums and electric guitars, tubas and live bait, mexicali and western swing, fast'grass and klezmer jams. Much more guitar and less fiddle than usual, not a problem. Some songs are ready for prime time in a Beck-friendly world but many crusties will still not get past the twang.

The official site posted an enlightening collection of emails to the band along with response. Just like Frank Zappa, these guys don't think twice about offending their audience, but we agree that in the long run it's good business to be completely clear and up front. They'll never play "Ace of Spades" again.
Early 1998 News: The underground's most famous tri-coastal bluegrass operation, Bad Livers, is resurfacing with a film project (The Newton Boys), new album (Industry and Thrift), and hopefully then some tourdates. Details are posted on the official home page. In regards to Mr. Frisell referring to our acoustic heroes as "...disturbing," the pirAnts found his pretentious quartet "extremely boring," even though we have always been fans. Meanwhile, evidence of positive impact upon the Northwest music scene is evidenced upon the chest of King Buzz.
Mid 1997 Report: Bad Livers toured through Hole World recently and they just might stay. The courage to change doesn't pass by these texAnts, and we hope Danny Barnes likes his new fishing Hole. Ralph White, King of the Duct Tape Fiddle, has been replaced by "New Yorker" Bob Grant, who played mando and guitar alongside him on the new album. Apparently Ralph got tired of crusties yelling at him all the time, and he'll be missed, but Fast Bob appeased even the most cynical pirAnts. Just after the 2/3 point of the show, Mark's tuba fell apart but he handled it very professionally.
In the beginning they thrashed us with bluegrass interpretations of Iggy Pop, Jimi Hendrix and Agony Column but their continuing success pertains to their own materiel. And while bass/tuba player Mark Rubin still gets cranky on and off the stage, lead singer/songwriter banjo-pickin' meister Danny Barnes is the endearing entity of the World's Greatest Acoustic Power Trio. When fiddler Ralph White, whom they kidnapped from a porch somewhere deep in Texas, picks up the bulletproof accordian YOU KNOW it's polka time! (but isn't it always...)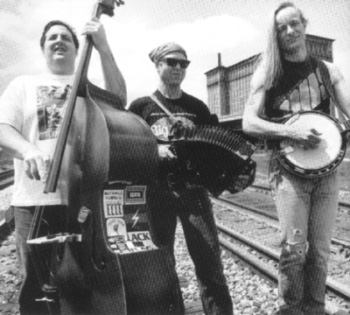 This is what you need. Start with Delusions Of Banjer, which was produced by Paul Leary of the Butthole Surfers. The attitude is punk/in your face with gospel leanings as you would expect, and the musicianship is unmatched anywhere on the crust. Their next cd was Horses In The Mines, which is a cult classic in HoleWorld. This release, recorded within a shack, has an old-timey feel complete with the barking dog wandering in and out of the sessions. HORSES takes the Livers far beyond any notions of novelty we may have had at the beginning-- these mines run DEEP. Their newest CD titled Hogs on the Highway is reviewed in the Mole Machine. Other findings are Dust On The Bible (only casettes have turned up so far) and a 45 rpmer with "Lust For Life"/"Jethro's Dream", and an old demo tape that includes a mutation of Bill Monroe's "Bluegrass Breakdown" with "Twenty Eyes in my Head" by the Misfits. Another classic is Relaxin' At Ciceros, a famous live tape with the "Ace of Spades" encore. The Bad Livers don't care much for tapers so all you pirAnts be careful. There is a famous poem about these past visits to St. Crustie, Missouri that has been graciously passed along to the Hole.

other links:
Phantom and Spiritual Benefits - from the Austin Chronicle
Southern Studios
Bad Livers Checkup - an Austin story